Q18. How can I obtain trout recipes?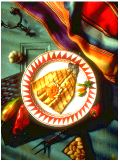 A18. Today, most trout fishermen practice catch-and-release for a number of very good reasons. In the Missouri trout parks, however, most of the fish are hatchery raised, so keeping the trout you catch here does not hurt a scarce resource. If you plan to keep your catch in these parks, you may interested to know that an excellent collection of trout recipes is contained in the USTFA Cookbook, published by the United States Trout Farmers' Association.
Q19. How can I obtain additional Missouri vacation information?
A19. You can obtain a free Missouri travel kit from the Division of Tourism by calling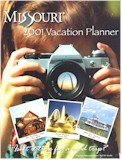 1-800-810-5500 or by ordering online through the Missouri travel kit web page. To help keep you informed about what is currently going on in Missouri's parks and historical sites, the Missouri Department of Natural Resources has an electronic newsletter available that you can subscribe to. (To subscribe to this free eFriends newsletter, go to http://www.mostateparks.com/efriends.htm .) Scenic Driving the Ozarks by Don Kurz (ISBN 1-56044-485-1) is an excellent guide book that will provide you with valuable information about the region and is highly recommended.
Q20. What are the telephone numbers for the Missouri trout parks?
A20. DNR's toll-free number for the Missouri state parks is 800-334-6946. Additional numbers are as follows:
BENNETT SPRING STATE PARK
Store/cabins 417-532-4307

Camping 417-532-4338

Dining lodge 417-532-4547

Pool 417-588-2071

Nature center 417-532-3925
MARAMEC SPRING PARK
Park office/camping 573-265-7387

The James Foundation 573-265-7124

Hatchery 573-265-7801

Shelter reservations 573-265-7124

Maramec Museum 573-265-3527
MONTAUK STATE PARK
Park office/camping 573-548-2201

Lodging/dining 573-548-2434
ROARING RIVER STATE PARK
Park office/camping 417-847-2539

Dining/lodging/pool/store 417-847-2330

Naturalist 417-847-3742
Q21. I live in the St. Louis area and am planning to visit Roaring River State Park for the first time. What is the easiest route for me to take when driving there?
A21. Take I-44 through Springfield and on to Mt. Vernon, Missouri. At Mt.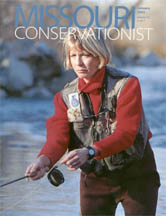 Vernon, take H south to Monett. At Monett, take Hwy. 37 to Cassville, and then take 112 to the park.
Q22. How can I subscribe to the Missouri Conservationist magazine?
A22. The Missouri Department of Conservation's magazine is free to adult Missouri residents and is only $7.00 per year for out of state subscriptions. (Foreign subscriptions are $10.00 per year.) Subscription requests should be sent to Circulation, Missouri Conservationist Magazine, P.O. Box 180, Jefferson City, MO 65102-0180. You need to allow between 60 and 90 days for your subscription to begin. To read the magazine online, go to http://www.mdc.mo.gov/conmag/ .
Q23. How can I obtain up-to-the-minute information about the current fishing conditions in the Ozarks?
A23. For a current Bennett Spring fishing report, see the Web site of Weaver's Tackle Store and for a current Roaring River fishing report see the Web site of Tim's Fly Shop. Links to these and other very useful sites are found on the Fishing the Missouri Trout Parks Weather and Fishing Reports page.